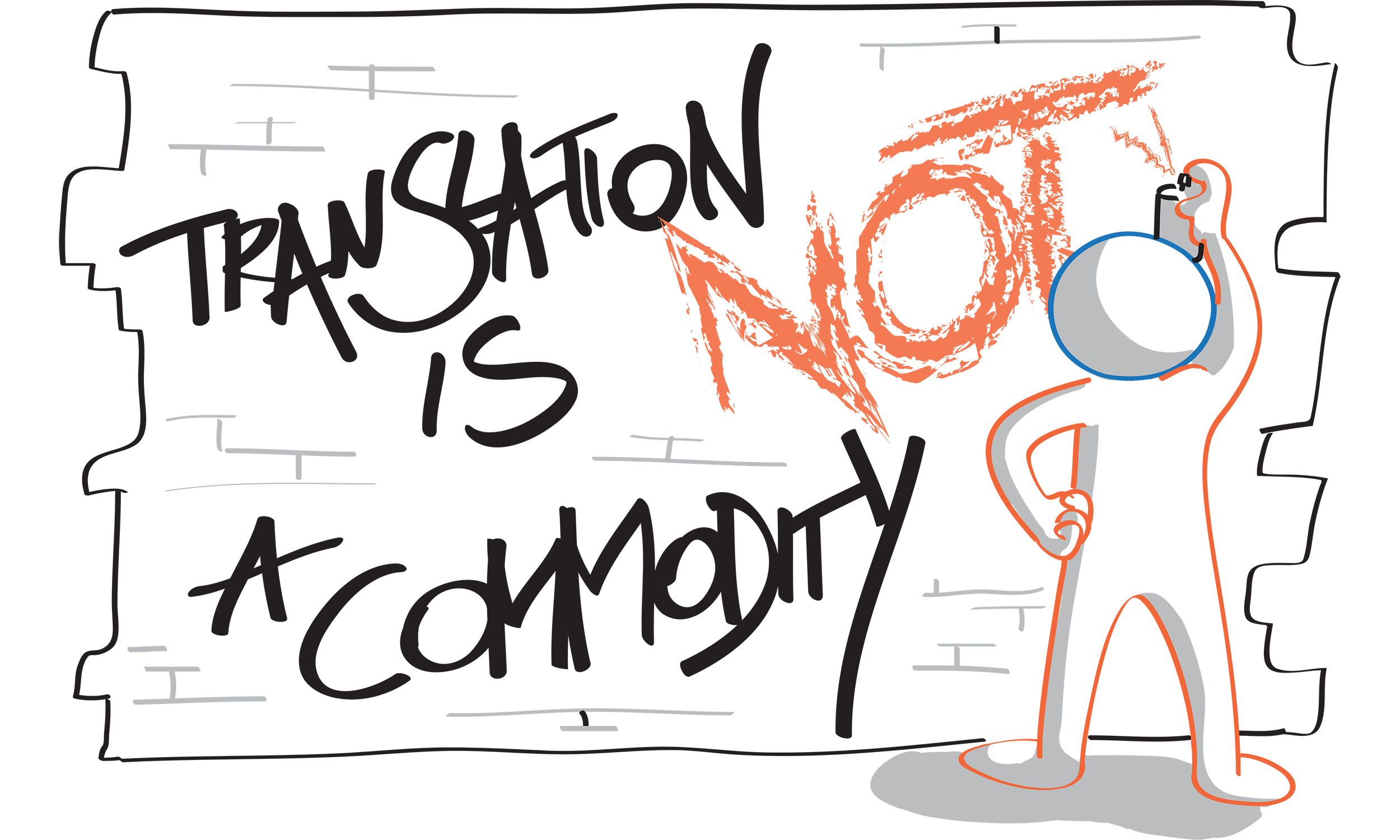 Why work with us?
…rewrite the future!
Not all translations are equivalent:
prove us right!

Paid online translation market
Leading customers to believe that translations – only if produced by a native speaker – are automatically professional and therefore "quality ones" has been a reckless decision: today buyers in the paid online translation market take quality for granted (even if in 90% of cases they have no way to assess it) and make their purchasing selections almost exclusively based on price.
So, online translation is going to be part of the so called commodities – goods and services in which the customer cannot see and difference, like petrol, sugar or flour.
Working as a translator will be more and more hard if this process of commoditization won't be adequately stopped: this will be very hard if translation agencies will keep on chasing only the pricing strategy (who lowers the prices sells more) and translators keep on accepting all kinds of jobs and not specializing in one or two fields at most, where they can get ahead thanks to their skills, instead of the commercial dumping.
In order to bring online translations back from the advanced state of commoditization they are now in, our online translation agency makes use of its role as an intermediary in responsible and innovative ways, by showing customers that not all translations are equivalent – we offer different levels of quality according to the expertise, methods, and technologies used to produce them – and giving translators the chance to compete profitably, according to their class of experience and their knowledge (Student, Junior, Intermediate, Senior and Expert).
For this reason, The Foreign Friend designed a web site with the explicit purpose of inspiring customers the "bad habit" of wanting to choose: starting from the quotation form, where customers are offered a so wide range of options, including the choice of the online translator who will take care of the texts!
We firmly believe that the future of paid online translations depends on the ability of making differences and it's for this reason that we want you to join our team!
Javier P. | Copywriter | Spain
Friendly, professional, organized, knowledgeable, open-minded and more reliable than a swiss watch payments-wise. A prime example of a "perfect customer".
Rosanna P. | Translator | USA
Brilliant system, supportive team, nice projects, reliable payments…Thank you, and keep up the good work!
Philippe C. | Translator | France
Finally an agency offering a fair chance to enter the translation industry to inexperienced translators. Thank you!
Lorenzo L. | Translator | Italy
You are exactly what the translation industry was waiting for!
Steffen M. | Translator | Germany
Clear instructions, nice PMs, interesting projects, payments always on time and unbelievable helpful platform: you have made my life easier!
Nathalie B. | Translator | France
Soul has become one of my best (foreign) friend 🙂
Beatriz S. | Translator | Brazil
I do appreciate the ability to accept assignments, access a pre-set work environment, deliver files, invoice jobs…Everything with just one single click – Thank you TFF!
Caroline L. | Translator | Germany
It is always a real pleasure to work with you – Thank you my Foreign Friend 🙂
Ishan F. | DTP Specialist | India